Looking for the Best Deck Contractors? Discover the Secrets to Finding Your Perfect Deck!
Are you dreaming of the perfect deck to transform your outdoor space into a haven of relaxation and entertainment? If so, you're not alone. A well-designed deck can significantly enhance the appeal and functionality of your home, providing a perfect spot for family gatherings, barbecues, or simply a quiet evening under the stars. However, finding the best deck installation Syracuse Ny who can bring your vision to life is a crucial step in the process.
In this comprehensive blog, we will unveil the secrets to locating the finest deck contractors and ensuring that you get the best deck possible. We'll focus on professional deck contractors in Syracuse, emphasizing their importance in delivering a stunning outdoor living space that suits your needs and budget. Let's dive in!
Also Read: Beautiful Space with Custom Shutter Installation in Syracuse, NY
Researching Deck Contractors
When embarking on the quest for the best deck contractors, research is paramount. Take your time to explore various local contractors, focusing on those specializing in decks and outdoor projects. Utilize online resources such as search engines, social media platforms, and home improvement websites to gather a list of potential candidates.
To narrow down your options further, read customer reviews and testimonials. This will provide insight into the experiences of previous clients, their level of satisfaction, and the quality of work delivered. Additionally, seek recommendations from friends, family, or neighbors who have recently had deck projects completed. Personal referrals can be invaluable in your search.
Check for Credentials and Experience
Once you've compiled a list of prospective deck contractors, it's essential to verify their credentials and experience. Ensure that they possess all necessary licenses and permits required for construction in your area. Professional deck contractors in Syracuse should have a thorough understanding of local building codes and regulations, ensuring a smooth and legal construction process.
Experience is another crucial factor. Look for contractors with a proven track record of successful deck installations. An experienced contractor will have honed their skills over the years, resulting in a better-crafted deck that meets your expectations.
Request a Portfolio and References
A reputable deck contractor will proudly showcase their past projects through a portfolio. Request to see a collection of their completed decks to gauge their style, craftsmanship, and versatility. Reviewing their portfolio will also help you determine if their designs align with your vision for the perfect deck.
Additionally, don't hesitate to ask for references. Speaking with previous clients will provide valuable insights into the contractor's professionalism, communication, and adherence to timelines and budgets.
Obtain Detailed Quotes
As you begin to narrow down your choices, reach out to the selected deck contractors and request detailed quotes for your project. A comprehensive quote should include the cost of materials, labor, permits, and any additional services. Comparing quotes will help you assess the overall affordability of each contractor and ensure there are no hidden costs.
Evaluate Communication and Professionalism
Effective communication is key to any successful construction project. Pay attention to how each contractor communicates with you during the initial discussions. Prompt and transparent communication is a positive sign that the contractor values your input and concerns.
Professionalism is equally important. A professional deck contractor in Syracuse will be punctual, respectful, and attentive to your project requirements. They will also offer expert advice and suggestions to optimize your deck's design and functionality.
Review Insurance Coverage
Before finalizing any contract, confirm that the deck contractor has adequate insurance coverage. A reputable contractor will carry both liability insurance and worker's compensation insurance. Insurance coverage ensures that you are protected in case of any accidents or property damage during the construction process.
Consider Customization Options
Everyone's dream deck is unique, so ensure the contractor is willing to accommodate your specific customization preferences. Whether you desire a specific type of decking material, additional features like built-in seating or pergolas, or a particular layout, the best deck contractors will work closely with you to turn your ideas into reality.
Sustainable and High-Quality Materials
The quality of materials used plays a significant role in the durability and longevity of your deck. The best deck contractors will prioritize using sustainable and high-quality materials that withstand the harsh Syracuse weather conditions. From traditional wood options to low-maintenance composite decking, discuss the available choices with your contractor to find the best fit for your needs.
Evaluate Guarantees and Warranties
A reliable deck contractor will stand by their workmanship and provide guarantees and warranties for their services. This reassures you that the contractor is confident in the quality of their work and committed to addressing any potential issues that may arise after the project's completion.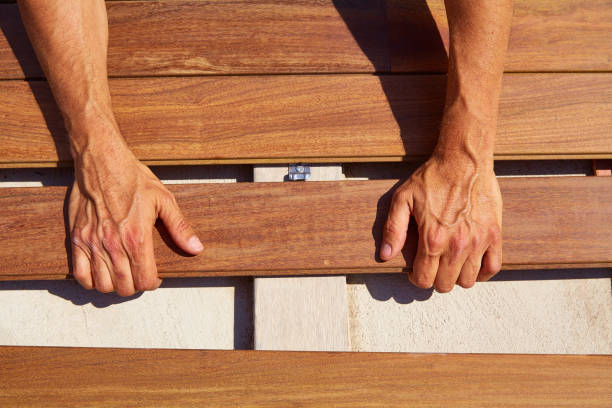 Conclusion
In your pursuit of the best deck contractors for your dream outdoor living space, remember to conduct thorough research, review their credentials and experience, request portfolios and references, obtain detailed quotes, evaluate communication and professionalism, verify insurance coverage, and consider customization options and material choices.
For residents of Syracuse, the benefits of hiring professional deck contractors are numerous. Their expertise in local building codes, knowledge of weather challenges, and familiarity with the area's unique architectural styles make them the perfect choice to bring your vision to life.
By following these secrets to finding your perfect deck, you'll ensure that your investment enhances the beauty, value, and functionality of your home, providing you with years of joyful memories and delightful outdoor experiences. Happy deck hunting!
If you are looking for a landscaping company in the Syracuse area, KD Landscaping Syracuse NY is a great option. We offer a wide range of services, we are committed to quality, and we have a great reputation.
Also Read: Installing Fence Gate: What You Should Know Before You Begin